Banff Hiking and Sightseeing Tours
During your time in Banff, there are several activities available from which you may choose.
Please note that all tours and hikes depart the hotel at the same time (9:30 AM), so you may only select one tour/hike per day.
To sign up for any of the tours select the "Spouse/Guest Banquet and Tour Options." Click here: registration page.

Deadline for sign up is Wednesday, May 8, 2019.
Thursday, May 30
Discover Banff and its Wildlife Tour – $50. Pre-registration required.  (12 person minimum – 3 hours)

The perfect introduction to your stay in beautiful Banff and Banff National Park. To start, feel the power of the Bow Falls and the beauty that surrounds it just below the Banff Springs Hotel. Continue exploring and snap picture postcard shots from some of the best views in town.
Discover Banff and its Wildlife Tour + Gondola Ride – $125. Pre-registration required.  (12 person minimum – 5 hours)

Enhance the tour with Banff Sightseeing Gondola – Cruise 14 minutes up the gondola up to the 7,500ft summit of Sulphur Mountain and enjoy the panoramic view of the entire Bow Valley. With six stunning mountain ranges and the sweep of the Bow Valley before you, views from the Sulphur Mountain summit are nothing short of breathtaking.
Johnston Canyon Hike – $70. Pre-registration required.  (10 person minimum – 5 hours; easy to moderate difficulty)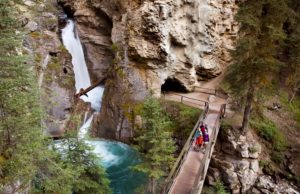 Taking a scenic drive along the Bow Valley Parkway, we scour the area for wildlife and meander our way to the famous Johnston Canyon. You will navigate a mix of forested trails and suspended iron walkways. Johnston Canyon provides one of Canada's most special environments. This easy trail leads into the famed limestone canyon while offering a superb view of Johnston Creek and its many waterfalls. At the Lower Falls make sure to 'duck' as you enter the grotto to get an up-close picture of this thundering cascade, before arriving at the spectacular Upper Falls. The Upper Falls drop a dramatic 40 meters to a deep pool below.
___________________________________________________________________________________________
Friday, May 31

Discover Kananaskis Country Tour – $70. Pre-registration required.  (5-hour tour: 12 person minimum)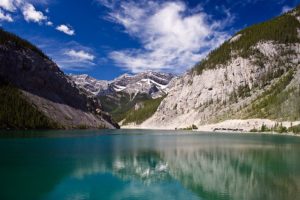 Get out of town and take an adventure to a hidden gem within the Rocky Mountains. While you are taking the road less traveled, you will have many opportunities to spot wildlife along your journey.  You will be surrounded by the towering peaks of Mount Rundle, Ha Ling and the Three Sisters as head towards Spray Lakes Provincial Park. Spray Lakes has gained more recognition recently after being one of the main filming locations of the award-winning movie, The Revenant. Carry on deeper into the heart of Kananaskis and into Peter Loughheed Provincial Park, renowned for its wildlife viewing and remoteness before returning to Banff through the First Nation, Stoney Nakoda territory.
Discover Kootenay Hike $89. Pre-registration required.  (6-hour tour: 10 person minimum; easy to moderate difficulty)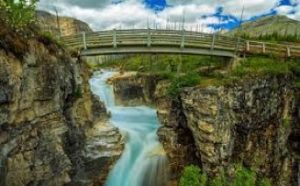 Kootenay National Park is a great location for a variety of small hikes. This allows guests to have a variety of views, experiences and potential to see wildlife in the area. Two of these hikes will be able to be completed in one day:
Marble Canyon – A popular trail atop a narrow and dramatic limestone and dolomite gorge eroded by the pounding waters of Tokumm Creek.
Paint Pots – Iron-rich pools and ochre beds, culturally significant to indigenous people including the nearby Ktunaxa Nation.
Vista Lake – The trail descends from the viewpoint to Vista Lake providing a pleasant hike through a young lodge pine pole forest that was born in the wake of the Vermillion Pass fire.
___________________________________________________________________________________________
Saturday, June 1
Lake Louise and BBQ Lunch (included in delegate registration; Guests $125 per person)
Buses will depart from the hotel to Lake Louise on Saturday after breakfast. For over a century, explorers have been making the trip to the incredible towering mountain peaks and icy blue glaciers, which are the highlights at Lake Louise.
For lunch, we will enjoy a Western Barbecue at the Brewster Cowboy's Barbecue and Dance Barn. The barn provides an authentic Western atmosphere and has a reputation for

exceptional quality of food and great service. The Brewster 'Hip of Beef' is a family specialty; aged to perfection for our barbecues and prepared in large barbecue ovens. A highlight at every event is seeing the meat get transferred with a pitchfork from the barbecue to the buffet tables.
After lunch, enjoy free time to discover this special place with outdoor pursuits: hike, rent a canoe or try horseback riding! If you prefer, the Château Lake Louise has various shops, lounges, restaurants and fabulous architecture that will impress you for hours.
A selection of transport options will be available for those who would want to go straight back to Banff or alternatively take a quick stop via Moraine Lake, one of the most iconic and photographed lake in Banff National Park.
Register Below