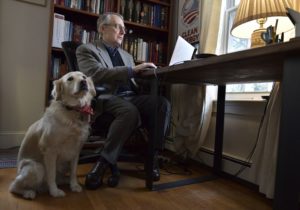 That's a problem for law students like Amelia Keyes who worry about climate change and don't want to work for a firm that represents the fossil fuel industry.
When recruiters from the nation's top law firms come to Harvard Law School, they often boast about their pro bono work and efforts to promote environmental sustainability. But all too often, as they try to lure the coveted hires, they don't discuss their clientele.
"Most of my classmates would pause at taking a job at Exxon, but they'll go and work for law firms that help Exxon or similar companies avoid regulations and accountability," said Keyes, a second-year law student at Harvard. "There's a big disconnect there. Law firms are the enablers and supporters of that harm."
Keyes and an increasingly vocal group of law students around the country are trying to change that.
Shortly after moving to Cambridge, she joined a growing campus movement called Law Students for Climate Accountability, which has been pressing the nation's top law firms to stop providing legal services for fossil fuel interests.
To continue reading, click here.