Mediation 2021: Where Do We Go from Here? – Asia-Pacific
                                           Program and Registration for Asia-Pacific Symposium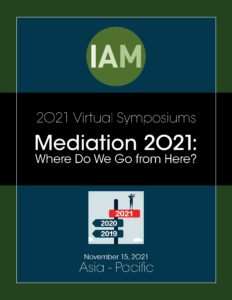 We are navigating unchartered waters in virtually every aspect of our lives.  Whether by choice or triggered by external factors, the ways we deal with each other (and perhaps view ourselves) have changed. So too has mediation which has become a more globalized profession involving new legal and factual challenges unheard of only a few years ago.  These symposiums will explore our changing professional world and ask " where do we go from here?"
Please note start times are 12pm (Hong Kong/Singapore) / 2pm (Brisbane) / 3pm (Sydney) / 5pm (New Zealand).
To convert the times for your time zone, click here.
---
Monday, November 15, 2021
Master of Ceremonies: Nina Khouri
12:00 PM Introductory Remarks – Michel Kallepetis, Nina Khouri and Doug Murphy
12:05 PM Session 1:  Climate Change and Other Common Themes: Rural Debt Mediation in the Pacific
Facilitator: Douglas Murphy QC; Speakers: Mark Kelly (New Zealand), Lee Nevison (Australia) and George Fox (Australia).
1:05 PM Session 2:  Mediation is Changing: Techniques and Considerations for Online and Hybrid Mediation Processes
Facilitators: Jody Sin and Tat Lim; Speakers: Danny McFadden (Hong Kong, SAR), Mary Walker (Australia) and Jawad Sarwana (Pakistan)
2:05 PM Session 3:  Mediation is Changing: How Can Mediation Advocates Enhance Their Skills to Add Value for Their Clients ?
Facilitators: Jody Sin and Tat Lim; Speakers: Vod Chan  (Hong Kong, SAR), Gary Gao (China) and Geoff Sharp (New Zealand)
2:55 PM Thank You and Conclusion
---
Register below: