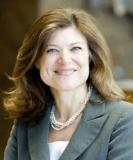 Eleanor Barr
Ex-Officio
Preferred Phone:
818-760-3706
Preferred Email:
eleanor@eleanorbarr.com
Preferred Web Address:
www.eleanorbarr.com
Professional Coordinance
15260 Ventura Boulevard, Suite 1200
Sherman Oaks CA 91403, USA

Areas of Practice
Employment, environmental and toxic tort, real estate, business, insurance coverage, personal injury
Bio
Settling cases is Eleanor Barr's passion. She began her legal career 30 years ago as a litigator of complex cases, and after 10 years, dedicated herself full-time to mediation. Over these last 20 years, she has successfully mediated over 1500 disputes and has earned an extraordinary settlement rate of over ninety percent. She is now recognized as one of the premier mediators in California. Ms. Barr mediates in the areas of employment, environmental and toxic tort, real estate, business, insurance coverage and personal injury. She is especially skilled at handling complex, multi-party matters – and any matters that include tough negotiations and difficult personalities. She brings exceptional people skills to even the most bitterly- contested disputes and is known for her sense of fairness and her tenacious commitment to reaching settlement. Ms. Barr has been selected by her peers as one of The Best Lawyers in America in mediation for 2008, 2009, 2010, 2011 and 2012, and has been chosen by Los Angeles Magazine as a Southern California Super Lawyer for 2009, 2010, 2012-2015. She is a Distinguished Fellow of the International Academy of Mediators, a frequent lecturer on mediation and negotiation, and has taught mediation as an Adjunct Professor at Pepperdine School of Law.
Education/Experience
Ms. Barr received a J.D. from Indiana University Law School in Bloomington and graduated Phi Beta Kappa from Indiana University. She has received mediation and negotiation training from many institutions including Harvard Law School's Program on Negotiation, the Straus Institute for Dispute Resolution at Pepperdine Law School, U.C.L.A., Los Angeles County Bar, Center for Conflict Resolution, the California Court of Appeal, and Concur.