Scottsdale Activities and Tours
During your time in Scottsdale, sign up for one of our scheduled activities or enjoy the day on your own, lounging at one of two pools or enjoying the hotel Spa and many of its other features.
Please note that tours have morning departures, so you may only select one event per day.
To sign up for any of the tours select the "Spouse/Guest Banquet and Tour Options" on the registration page. Click here: registration page.

See below for deadlines to sign up.
---
Thursday, November 7
Architectural Tour: Taliesin West/Cosanti Pre-registration required $128 per person; deadline October 25, 2019 (15 person minimum – 4 hours – transportation provided)
Your guided tour of Taliesin West takes you along the courtyards and terraces, garden paths and reflecting pool area, past a bearing citrus grove and beside the working drafting studio of the Taliesin Architectural Group.
Often acclaimed as the greatest architect of the 20th Century, Frank Lloyd Wright discovered the Arizona desert in the late 1920s. By 1937 he decided to build a permanent home, studio and architectural campus on 600 acres of beautiful rugged desert in the foothills of the McDowell Mountains in northeast Scottsdale. Wright's design for Taliesin West showcased his brilliant ability to integrate indoor and outdoor spaces. It soon began receiving international media coverage and attracted visitors from throughout the world. Frank Lloyd Wright literally created Taliesin West "out of the desert." Visiting Taliesin West is particularly meaningful since the buildings are used for the purposes for which they are designed; the site still serves as a living, working, educational facility with an on-site architectural firm. Taliesin West is a National Historic Landmark!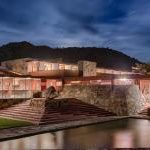 We'll follow this with a visit to Cosanti. A tour of Paolo Soleri's Cosanti Studios is a lovely stop to include on any tour of the Scottsdale area. Paolo Soleri was a world-renowned architectural innovator who briefly studied with Frank Lloyd Wright at Taliesin West. He then returned to his home in Italy where he was commissioned to design a large ceramics factory. During this process he also designed award-winning bronze and ceramic wind bells. The word "Cosanti" comes from two Italian terms which together mean, literally "Before or Against". Learning that Cosanti means "Against Things" leads to an understanding of Soleri's anti-materialist stance. Cosantis is a unique bio-climatic architectural environment which he named "Arcology". Its structures feature many imaginative design elements, reflecting Soleri's innovative construction. The ideas generated at this location have helped to develop a lean and frugal methodology for alternatives to urban sprawl. Paolo Soleri designed the innovative and decorative bridge at Scottsdale and Camelback Roads as well.
---
Friday, November 8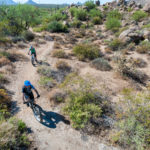 Sonoran Bike Tour – $110 per person. Pre-registration required – deadline to register is Oct 31.  (4-hour tour: 8 person minimum – transportation provided) Departure time 8:30 AM – 12 30 PM
Fat Tire bikes are perfect for riding on local trails, providing maximum stability and an enhanced sense of security, making them ideal even for beginners and kids.  Join us on a fully personalized Fat Bike tour. Biking is a great way to experience the beauty of the Sonoran Desert, allowing you to cover more distance and enabling you to see more scenery! We will pick you up at your hotel at 8:30 AM and take you to Brown's Ranch (part of the beautiful MacDowell Sonoran Preserve). Step one is fitting you properly on the bike and providing you with the right size helmet and gloves. Step two will be a short assessment of your riding skills and fitness level. After that is when the fun begins. We will take you through a network of trails, which might vary in difficulty depending on your riding ability. There will be many stops at scenic points with countless opportunities for spectacular photos, as well as hydration and snacks, which we will provide.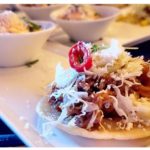 A Taste of Old Town Scottsdale Lunch Tour Pre-registration required – deadline to register is Oct 31. $85 Per person (3.5 to 4-hour tour. 10 person minimum. Transportation not provided. ) Departure time 10:30 AM -2:30 PM.
Our group will meet in downtown Scottsdale where you will enjoy strolling through historic Old Town Scottsdale and opening your mind and palate with tales full of rich history, one taste at a time. Arizona Food Tours is led by true local foodie enthusiasts committed to providing an entertaining, fun and fulfilling experience for any occasion.
This tour is designed to provide a full lunch, with historical insight and overview of the "West's Most Western Town"
Expect a variety of signature menu items, unique to each destination. Tour includes one alcoholic/non-alcoholic beverage option.
Includes stops at five different eating establishments
Come see why Scottsdale is considered a foodies paradise, with a world-class dining scene boasting over 600 restaurants and eateries.
An opportunity to explore historic downtown Scottsdale, both past and present, led by local foodie enthusiasts with a passion for excellence
---
Saturday, November 9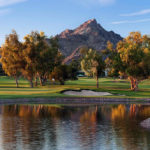 Afternoon Golf at the Arizona Biltmore –  $100 per person (includes green fees and golf cart). Pre-registration required – deadline to register is Oct 25th. (4-5 hours: transportation not provided ) Tee times between 1:37 and 2:27 PM (approx 8 minute intervals)
After a great conference, why not relax with a few of your colleagues and play a round of golf? We will Uber/Taxi to the course and tee-off at a PGA 18-hole golf course in the heart of Phoenix. Rolling fairways, pristine lakes, and lush beauty are a few of the features of the Arizona Biltmore. The golf course offers bold challenges and enjoyable play to even the most demanding golfer. Tee off with us and appreciate the game the way it was meant to be played – in style.
The Adobe Golf Course – Biltmore
The Adobe golf course is considered stately and grand, a forefather of modern design, and is one of the most established golf courses in Phoenix. The Adobe offers simplistic beauty hard to find in an era when trickery is a goal in golf course architecture. When you long for a relaxing yet challenging round, there are few equal. The lush, 50-year-old fairways and spacious layout are a reminder of the game the way it was meant to be – a time when graphite was for pencil lead and golf balls only came in one color. Like the great players of its day, the Adobe can tell you some stories.